Every year I have posted these same pictures on other sites. I got them from a magazine not long after 9/11 and there was no explaination with them other than they were taken near Ground Zero. I wish I knew the story, or who these men were, or how this dear little lion came to be wearing a lifevest.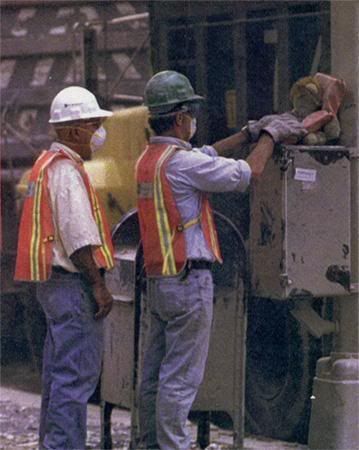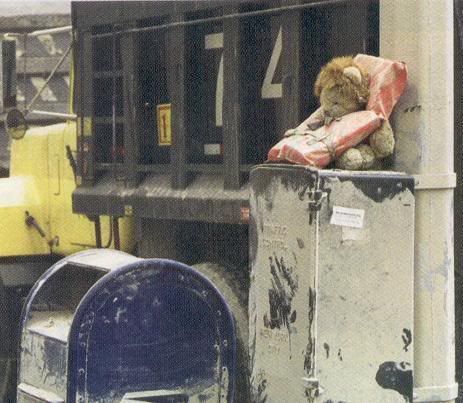 I was 23 years old on 9/11/01. I worked at the Museum of Science as a telephone services rep assisting visitors with information, ticket purchases and assisting educators with planning field trips. I always got to work extremely early because of the brutality of the commute from Bridgewater, MA, to Boston, MA. It was so, so very peaceful that morning and so very beautiful. The skies were clear, the sun was shining, the temperature was perfect. I remember looking out the library windows at the Boston skyline and admiring it, wishing my friend Nick who was in the area visiting from Australia could have seen it. He was up in Maine, you see. He'd flown out of Portland a day before the terrorists did.
It was people I spoke to on the internet who told me what happened. It was "just a small plane". Oh. Scary, but not as scary as it could have been. When the "could have been" started to come true, it was terrifying. People down in the museum had access to television but in our office we did not due to the nature of our work. We had what we could get textually on the internet. Fark.com and other sites became essential as they had the best updates and were the most stable. We fielded few calls that day, mostly from schools cancelling or rearranging trips and such in the aftermath of such terror. We reassured people our doors were open and eventually, the admission fee was waived. People still stayed away, and I understood that. An eerie quiet settled over our world.
Driving home that night, the roadways were empty. Logan was closed, all her aircraft lined up neatly at the gates and on the tarmac. The only sound was an occasional military jet. Everyone was jumpy; skittish. What shoe would fall next?
But we emerged. Our generation was dragged into the realities of a military at war. We saw young men and women head off, some to never return. Today, those wars have either ended or will end soon. Our military is coming home.
Maybe next year, I can say we live in a more peaceful world, a fitting tribute to those we lost that day.